It sounds too good to be true:
It's possible to permanently replace hair in balding areas. With your own real hair. Looking completely natural.
You'd be excused to assume this is some kind of snake oil pitch. How is this possible? How can you coax hair into growing where it hasn't for years? There must be some kind of hitch, you think. They must be exaggerating, or there must be some kind of downside. Because if we know one thing for sure, we know that there is no free lunch.
And yet, the track record of medical hair restoration over the past few decades proves definitively that it can be done: Modern Follicular Unit Extraction or FUE hair transplants are an incredible achievement in cosmetic surgery. They combine technology with artistry to bring joy to millions of people – predominantly men – affected by premature hair loss.
The best way to convince you of this miracle is to let you see it with your own eyes. Below we are highlighting several hair (and beard) transplant cases performed at The Hair Doctor over the last few years. These will show you different scenarios of patients with different hair types and stages of hair loss, before and after their procedures, with a little background information on each patient.
Patient 1: Caucasian, medium loss, thin density, severe balding in half-moon area up front
The 37-year old patient was mainly concerned about his severe balding in the half-moon area at the front of his head, extending towards the crown. He had a 2,500 graft NeoGraft hair transplant at Louisville Hair Doctor in September of 2020 to restore his severely receding hairline and fill in the area of concern. The results below are shown at the 6-month mark. His hair will continue to thicken throughout the next 6 months as additional growth occurs and follicles reach full maturity. Final results are expected at 12-14 months.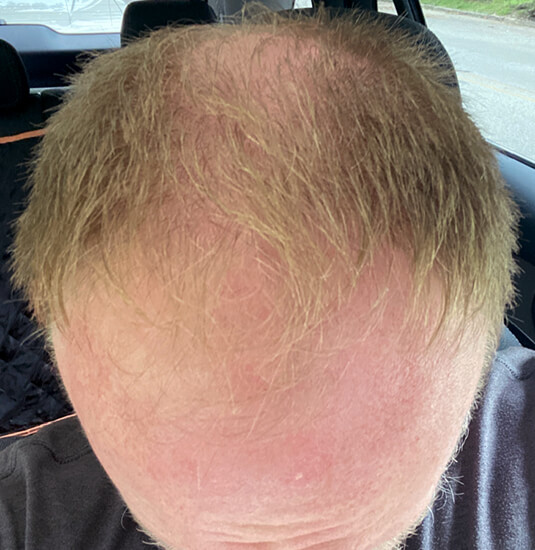 Patient 2: African-American, receding hairline
This 23-year old patient came in from Arkansas with the wish to restore his prematurely receding hairline. He was happy with the density on his crown and therefore didn't need a full set of grafts. He had a 1,500 graft hair transplant at Nashville Hair Doctor in November 2018. His results below are shown at the 12 month mark, which is when most hair transplant recoveries are considered to be complete. He is very pleased with the shape of his new hairline, which came in exactly as planned with the Hair Doctor NeoGraft Master Tech during pre-op.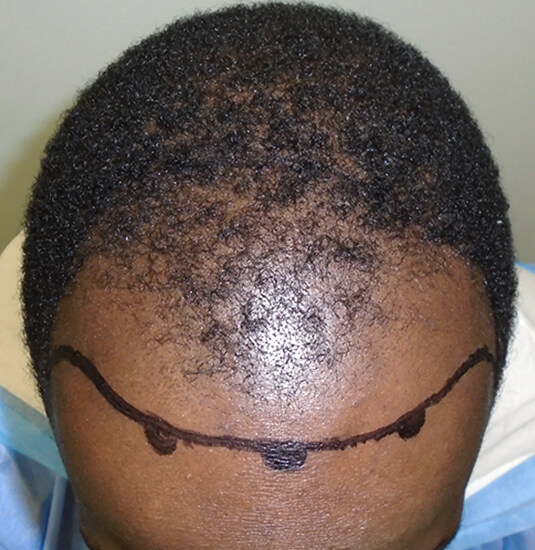 Patient 3: Caucasian, coarse wavy hair, loss in crown and front corners
This 48-year old Nashville resident had been thinking about a hair transplant for some time. When his wife, a hair stylist, encouraged him to go ahead and explore his options, he did some research and settled on Nashville Hair Doctor. His 2,500 graft hair transplant in February 2020 addressed the recession of his hairline as well as a beginning bald spot on his crown. He was surprised to have such good results as early as 6 months post-op, and is very happy with the fullness at 12 months.
The video below shows an all-around view of this patient's hair restoration from the top, the sides, and the back:
Patient 4: African-American, receding hairline at the corners
This 28-year old patient from Clarksville, TN was happy with his coverage and density for the most part, but didn't like how far his hairline receded at the corners. After consultation with the Nashville Hair Doctor, he opted for 1,200 grafts to fill in the left and right hairline. He had his NeoGraft hair transplant in November 2020 and is already beyond happy with the results at 6 months. He can expect even more growth over the next 6 months.
Patient 5: Caucasian, patchy facial hair, especially towards ear
And lastly, we'd like to show you where else you can go with a NeoGraft hair transplant: a designer beard! At first glance this might not be intuitive. If you take the hair for your hair transplant from the back of your head, where do you take the hair for your beard from? The answer is, the same. The only hair that is safely resistant to male pattern baldness is the hair at the back of the head. But it is not confined to the head. You can use the same hair and transplant it to your face (or even eyebrows!) to restore growth in those patchy areas.
This 40-year old patient was unhappy with his short and patchy facial hair growth. He wanted to grow a full beard, and to this end opted for a 2,000 NeoGraft beard transplant in August of 2018. The results shown below are at 8 months post-op:
We hope that we have given you some confidence that a hair transplant is an excellent investment that will continue to pay dividends for years to come. Please note that all the patients introduced above are real Hair Doctor patients who had their procedure at one of the three Hair Doctor practices in Nashville, Memphis, or Louisville, KY. We proudly serve patients from all over the country and offer a travel package to help offset overnight expenses.
Ready to get started? Please upload your pictures to submit a quote request, and you will receive a personalized hair transplant quote from our NeoGraft consultant within the same business day