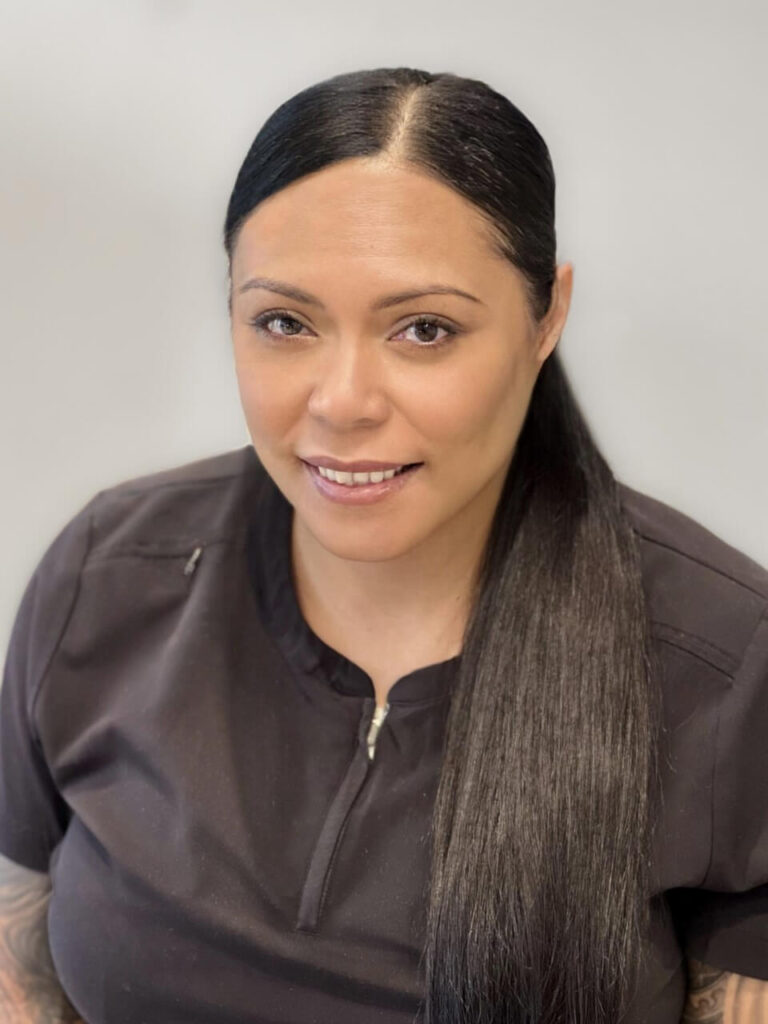 Daryl Watson, NeoGraft Master Technician
Daryl is an expert with 22 years of experience in hair restoration, both in FUT (Strip Method) and FUE (Follicular Unit Extraction, aka NeoGraft). She has worked in all areas of hair restoration, including the management and training of technicians.
Since receiving her Medical Assistant diploma in San Pedro, CA, Daryl has performed numerous hair transplants using various types of restoration technology (NeoGraft, Artas, the Cole hand held machine, the Ellis handheld machine, Choi implanters), but NeoGraft is her preferred method due to its incredible success.
Throughout her career in hair restoration, Daryl has found that being a part of each patient's journey is a very important responsibility for her. She takes her ability to transform their hairline as well as their life very seriously.
Whether you're just graduating college, celebrating an upcoming marriage, trying to keep the dad bod under control as well as the hair loss, or touching up an old procedure you had years ago – Daryl loves the customized restoration she is able to provide you with to meet your goal.
Our patients love how comfortable Daryl makes them feel during the procedure. We often hear feedback from patients that she ensured their complete satisfaction, going above what they imagined with a constant, warm smile.
Born in the Phillippines, Daryl and her family moved to California when she was 5 years old. When she can find time outside of her busy schedule, she enjoys cooking, shopping, and spending time with her large family.
"Daryl is one of the kindest human being I know, and her expertise plus super attention to detail is something so rare in my experience! I can't recommend Daryl and the Hair Doctor Group enough."

Barrett P · Martinez, CA · 2,500 grafts · March 2022
Jessica Cruz, NeoGraft Master Technician
With over a decade in the hair transplant industry, Jessica Cruz is sure to make your hair restoration journey as smooth as possible. She is a NeoGraft Master Technician with extensive experience in FUE and FUT spanning over 15 years.
Jessica has great people skills and always makes the patients' experience memorable and entertaining. She was once called "a great DJ" by a patient. While Jessica is performing procedures, the Hair Doctor offices are always filled with laughter as she engages everyone in conversation and makes the long day enjoyable for her patients. (Unless, of course, a patient prefers silence or privately listening to music or a podcast.)
Jessica earned her Bachelor's of Science degree at Wayland Baptist University and holds certifications as a Registered Medical Assistant (RMA) and Neograft Technician. She has also completed in-depth training programs in HARRTS as well as HARRTS Robotic hair transplants. In line with her commitment to constantly evolving and learning, she is currently pursuing a master's degree in nursing.
Originally from San Antonio, Jessica resides in Atlanta, GA with her husband and four children. She commutes weekly to the Hair Doctor office.
"Jessica Cruz and Lisa Sanchez are just absolute stars. They made me feel comfortable and confident in my decision to move forward with such a procedure. The day was filled with laughs, great conversation and insight to what they were doing each step of the way. They were direct with my aftercare instructions and followed up along the way to make sure I stayed on track in the healing process. I couldn't imagine a better team to see this procedure through and it was well worth the investment I made."

Caleb L · Brentwood, TN · 1,500 grafts · November 2021
Corrina Vasquez, NeoGraft Master Technician
Having worked in the medical field for 16 years, Corrina Vasquez has been specializing in hair restoration since earning her CMA certification in 2009. As a Certified NeoGraft Trainer and FUE specialist, she has trained doctors and technicians around the United States in FUE hair restoration in addition to performing hair transplants as a Master Tech.
Corrina prides herself in her ability to help her patients achieve their vision of transforming their appearance. She enjoys nothing more than witnessing how their new look infuses them with newfound confidence and a sense of well-being that is often life changing.
If you ask Corrina's patients, there are three qualities that stand out the most to them after having undergone a hair restoration procedure with her: 1) how comfortable she made them feel, 2) how thorough she was in making sure she understood exactly how they wanted their hair designed, and 3) how fast the day flew by while she was communicating with them throughout the entire process. She is regularly complimented on both her professionalism and her ability to make her patients feel at ease.
Corrina is originally from California but has lived in Texas for 31 years. In her free time, she enjoys cooking and spending time with her family and friends. She commutes weekly to the Hair Doctor office.
"My expectations during my [beard transplant] procedure were BEYOND exceeded. Corrina and Allison were both splendid, and did an exceptional job of making me comfortable. They were both very informative, friendly, and personable throughout the entire 8 hour process. Time flew faster than a 98mph fastball, and in large part thanks to them. I couldn't recommend Nashville Hair Doctor fast enough, and I cannot wait to see my results!"

Mackenzy T · Saint Paul, MN · 2,500 graft beard · December 2022
Shauna, NeoGraft Consultant
Shauna has over 17 years of experience in the healthcare field, and we are proud to have one of the very best as our Certified NeoGraft Consultant. She finds that helping others one on one through the process to achieve their goals is the most rewarding experience in her work with Nashville Hair Doctor & NuBody Concepts.
Being a real people person, she thrives on interacting with her patients and is passionate about her purpose in their journey. She has been with NuBody Concepts since 2012, positively supporting all we do.
In her spare time, Shauna is kept very busy with her husband and 6 children. She has a talent and passion for singing, and also enjoys cooking, thinking up puns, and working out.
"I can't say enough good things about the staff at Nashville Hair Doctor. From the moment that I started this process, they have been great. Shauna is awesome! She's always quick to respond to any questions you might have, and I've had plenty. For anyone that's on the fence like I was, I would highly recommend giving them a try too."

Adam A · Evansville, IN · 2,200 grafts · January 2022
---
Supervising Physicians
Double-Board Certified Plastic Surgeon
Board Certified Plastic Surgeon