Corey had a hair transplant at Nashville Hair Doctor in May of 2019. Four years onwards he popped into our office, simply to tell us how very happy he was with his hair, and that he wanted to share his results with others who might consider a hair restoration procedure. His visit was a complete surprise, but not his amazing results!
We felt that his pictures mostly speak for themselves, so we've put together the following timeline of his journey.
Procedure Day
When a patient comes in for his procedure at Nashville Hair Doctor, the first order of business is to agree on the shape of the recipient areas – i.e. hairline, crown, etc. This will have been discussed during the quoting process, but on procedure day the actual areas are drawn on. This lets the patient see in real time what it will look like, and any adjustments can still be made at this point. Only once he is happy with the proposed plan does our NeoGraft Master Tech proceed.
Here you can see what Corey was wishing to achieve with his 1,500-graft hair transplant:
It is important to note that African hair differs from Caucasian hair in several ways. All Nashville Hair Doctor hair restoration specialists are very experienced in performing African-American hair transplants. We believe the results speak for themselves.
1 Month Post-Op
Corey came in again a month after his procedure for a first checkup. Here you can see a very faint outline of the transplanted grafts, but no visible hair. This is due to the fact that the first shedding cycle begins approximately 3 weeks after the procedure. The hair falls out, allowing the follicles to begin their new growth cycles, which typically kick in at full force in the middle of month three.
Learn more about the NeoGraft hair transplant recovery timeline>>
As you can see, at the one-month mark the donor area has fully grown in again, leaving no visible signs that any hair grafts were pulled from it. In fact, the donor area is typically restored to a completely natural look in just 10-14 days.
9 Months Post-Op
Each patient is unique, but at 6 months most patients see results they are very happy with. But the hair will continue to grow and thicken over the next 6 months, up until the hair restoration is considered complete at 12-14 months.
Here you can see Corey's 9-month results:
4 Years Post-Op
While we love to show off our patients' 1-year results, we don't always get to see them. Many patients don't feel the need for a checkup when they are happy with the outcome. We are very grateful that Corey, on a whim, decided to pay us a visit 4 years after his procedure. He got to visit with Shauna, our NeoGraft Consultant, who walked with him through his restoration journey from beginning to end. We love getting to see our former patients and hang out with them!
Here you see what Corey's hair looks like today, in March of 2023:
And finally, here you can see the complete transformation from pre-op to end result: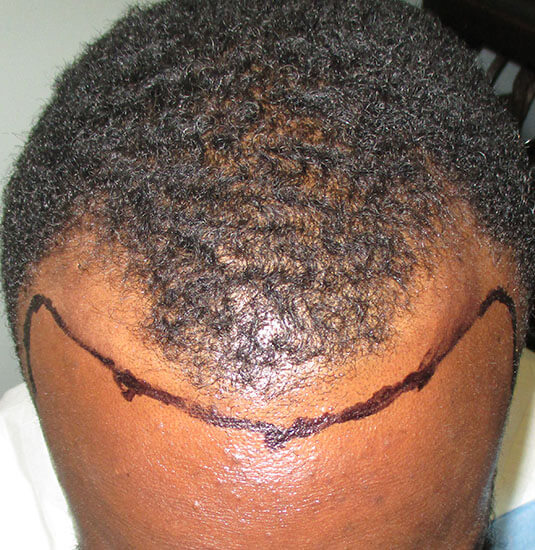 Thank you, Corey, for letting us share your amazing hair transformation journey!
If you are interested, learn more about hair transplants for African-American candidates here. Below we show you a sampling of results we've achieved in other patients of similar hair type.