When having a hair transplant, the restored hairline is a like the crown jewel. It is what people first see when looking at you. And it is the place where any badly implanted hair grafts would stand out the most. Walking away with an aesthetically pleasing hairline is why you'll want an experienced and skilled technician to perform your FUE procedure. We invite you to take a look at our hairline restoration results at Nashville Hair Doctor (and our Memphis and Louisville offices) over the last few years, and to learn more about the aesthetic importance of your hairline below.
The Hairline as "Starter" Hair Transplant
Hairlines are indeed tricky to get right. But before we get into the details of how your hairline could come out terribly wrong and what you need to watch out for, we'd also like to point out this: In some ways, the hairline is the lowest hanging fruit of hair restoration. With relatively few grafts, your hairline can be restored to its natural look. Actually, you can have it restored to something even better than its natural look. Perhaps it was crooked even before you started losing your hair. This is your chance to give it the look you want in a minimally-invasive procedure without scalpels, or a lasting scar, simply by extracting hair follicles from the back of the head and transplanting them to the areas suffering from male pattern baldness.
And while you might need 2,500 grafts (or approximately $10,000) for a full hair transplant that fills in both the receding hairline and a balding crown, you might get away with just 1,500 or even only 1,000 grafts (or less than $5,000) for the hairline alone. This means that if you don't currently have the funds to go for a full hair transplant, a simple hairline restoration might be the perfect solution for you. It will give you that younger, fuller look, without actually filling in all areas so densely.
But here is what we hinted at earlier: You'll want to make sure your hair restoration clinic gets the procedure right. A badly done hairline is not going to make you happy. Here are the pitfalls to watch out for:
"Doll Hair" Look
If you conjure up the image of a doll's face framed by hair, you know what we mean by this. When grouping too many follicles together into each extracted and transplanted follicular unit, and when then placing these units in a too regularly spaced pattern, the hairline ends up looking like that of a doll.
Hair grafts are typically made up of groups anywhere from 1-4 follicles. When harvesting the grafts, the technicians carefully organize these groupings so that they can be strategically placed. Particularly along the hairline where our hair is the finest, the number and spacing of grafts needs to be carefully planned to achieve the most natural results. The more skilled the technician, the more natural he or she can make the hairline look so that it doesn't resemble a doll's head.
The so-called punch size also plays a role in hair restoration. The smaller the punch size, the faster the small red dots where your hair is extracted heal up again. In fact, a slight variation in punch sizes is warranted to accommodate different types of hair based on ethnicity. Asian hair is typically very fine, meaning a smaller punch size is needed to make it look natural. African hair tends to be coarser and curlier, and using too small of a punch size on it might actually cut off (transect) too many follicles for good results. Hence, African hair is typically extracted using a slightly bigger punch size. But again, no matter what type of hair you have, the hairline requires smaller groupings and careful placement so as to look natural.
Too Straight or Too Low of a Hairline
It's very tempting to fix a receding hairline, which is often most visible at the corners, by creating a straight line across the forehead. Of course this is possible, but you shouldn't do it if it doesn't look natural. Some recession in the corners is precisely what gives the hairline its natural look. Your hair transplant surgeon or technician should plan your hairline's height and shape closely aligned with the hairline you were born with.
Again, ethnicity plays a role. Caucasian hairlines are typically higher and more curved, whereas people with Afrocentric hair have lower and straighter hairlines. Placing an African-American hairline on a Caucasian man would look rather odd and not natural at all.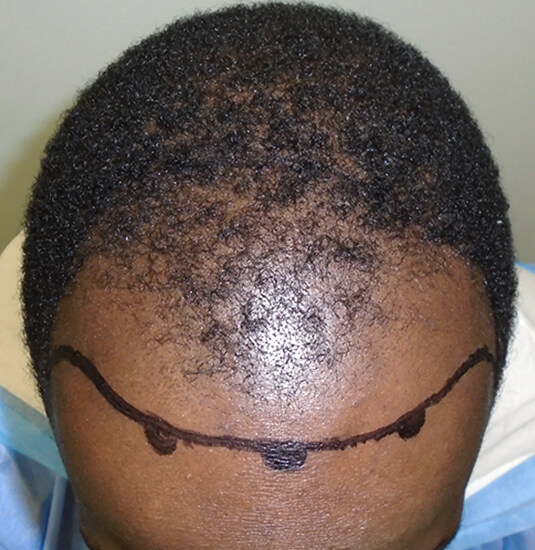 Use Your Donor Hair Wisely
There is another problem with lowering your hairline too much. This has to do with the progression of hair loss fueled by male pattern baldness. You will inevitably continue to lose more hair as you get older. You don't want to use the finite supply of the donor hair resistant to hair loss at the back of your head. This hair is like gold to you, and you want to use it wisely. Use it to restore your natural hairline and then later fill in gaps in the crown, not to lower the hairline to where it was never meant to be.
The best way to make a decision as to how many grafts to harvest and which areas to best transplant them to is to consult with a professional hair transplant consultant. You will simply share your pictures from different angles and a few personal details, and they will be able to provide you with a quote. Make sure you let them show you before and after photos of their patients so that you can see results for different hair types. Shauna, the Hair Doctor's own NeoGraft consultant of many years, would love to help you get started. Simply request your quote by uploading a few pictures, and you will receive a replay within one business day.